Paraza is situated 15 mintues from the lovely town of Narbonne. On the border between the regions Aude and Herault. To the beautiful beaches of the Mediterranean it will take you 30 mintues by car. If you so wish to instead
swim in a lake or a river, those can be found a mere 15 minutes from the house.
The whole region along and around Canal du Midi is incredibly popular among biking tourists. In our village there is the Mellow Velos that rents out bikes of all shapes and sizes if the three lovely bikes at the house should prove insufficient. Biking maps with several day trips marked are available.

To walk along the canal and watch the boats slow progress is nothing less that wonderful. A moderate distance away, about 1,5 km to the east, is the neighbouring village Ventenac-en-Minnervois and 2 km west along the canal you will find Roubia. Both villages have shops and restaurants.


The nature around the lively wine town Saint Chinian is both dramatic and very beautiful. Towards the end of July every year here they celebrate a wine festival that is well worth a visit. Sundays are also market day in Saint Chinian and then the town really comes alive around the market square and the many restaurants.

There are plenty of beaches to choose from along the coast.
Leaucate Plage and Franqui are our personal favorites since they are less touristy and lovely to behold. If you'd like a more spirited beach life and activities there is the Narbonne Plage as well as St Pierre de la Mer and many others.

A visit to Carcassone and the awe-inspiring Cité de Carcasssonne makes for a nice day trip. The old fortified town was welcomed into Unescos world heritage list in 1997. If you'd like even more insight into the regions history a visit to one of the many Cathar Castle dotting the landscape would be well worth your time.

If you would like more leisure activities on land, there are plenty of hiking trails, horse riding, adventure parks, golf courses etc.

Markets, fleamarkets and vineyards are plenty.
Going to French markets is a must according to us. Here you buy everything from food, wine, shoes, clothes, fabrics, etc. but also just to watch the folklore sit at one of the cafes around the market streets. To the nearest market town of Lezignan-Corbières it is 15 min by car. A large market is held there every Wednesday between 09:00 and 13:00. Olonzac, which is also close, has its market on Tuesdays. In Narbonne there are different markets several days a week and there is also a nice large commercial hall with very fresh goods like fish, meat and vegetables etc.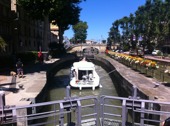 Along the canal you will find many locks, cozy villages and restaurants such as Homps, Le Somail and Capestang Here you can also book a boat trip 1-4 hours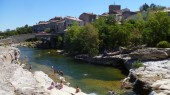 Swim in the river at Ribaute, a cooling stop on the way to the cozy village of La Grasse,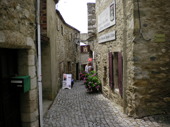 Visit the medieval village of Minerve, which is named one of the most beautiful villages in France (les-plus-beaux-villages-de-france).